COVID-19 is having a profound impact on all our lives personally and professionally, from the need to stay at home to minimise the spread of the disease, to the limiting of social contact to minimise the spread. There is now a gradual easing of restrictions in lieu of a vaccine, to try and ensure a safe return to anywhere near how our lives were before the outbreak of the pandemic. What we do not know at present is the speed at which we will be able to return to the same levels of activity levels before the pandemic.
What is the immediate impact to our working practices?
The challenge of this gradual ramp up is that for many of us we cannot carry out our everyday work activities in the same way as we did before the outbreak. For some it was the ability to have in person meetings and for others it was the ability to carry out their regular day-to-day work activities.
We are already leveraging technology for our communication needs as highlighted in the increased usage of collaboration tools such as Zoom, Slack and Microsoft Teams. Adapting to having a remote workforce has forced changes to our work practices.
What can we do to overcome these work-based challenges?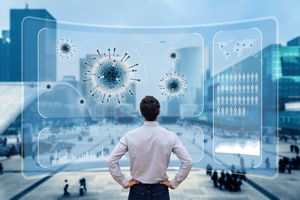 Remote working practices calls for the increased need for digital solutions to achieve this new
modus operandi
. These new ways of working were a longer-term priority for organisations prior to the pandemic and now need to be brought forward.
For many organisations, there are still activities that are carried out manually involving personnel from different departmental groups. The implementation of web-based automated workflow solutions could solve the problem and provide value-added benefits in data quality, customised reminders & alerts, and timely approvals. Productivity would be significantly improved, and new solutions could facilitate the necessary collaboration required to complete the end-to-end activity.
For industrial sectors such as Energy and Manufacturing, utilising sensor technology and mobile applications to automate data capture workflows and improve work processes in maintenance routines and integrity management activities.
Implementing an Identity & Assessment Management (IAM) solution for example, would allow users to use a single log in to access their applications, rather than logging in to each system individually. Security profiles can be enhanced and the consolidation of user identities and passwords with Single-Sign-On (SSO) functionality make it easier for IT departments to audit where and how these user credentials are used.
How do we start on this journey of change in the workplace?
Work within your organisation to clearly understand the pain points. For most organisations, the answers lie within their workforce carrying out these activities in dedicated teams to drive the innovation. This approach will aid in the identification potential solutions, such as a need for the increased use of mobile applications or the implementation of cloud solutions that enable remote collaboration.
List out your strategic goals and the benefit of each. These can be ranked and prioritised so that you can go about undertaking those that can provide immediate benefit and large cost savings.
Have a roadmap to deliver the strategy to implement these changes, and intermediate checkpoints to evaluate progress, cost savings and other benefits gained.
Take an agile approach so that there is flexibility to make the changes required incrementally but also provides the ability to scale up having achieved an improved business formula.
The re-skilling of your workforce and the possible creation of new roles will be an important consideration to ensure your organisation is equipped to deliver new business models.
Clear and regular communication will be important as this pandemic has forced change upon us as a society and so there needs to be a concerted effort to help the workforce adapt to new working practices and maintain their well-being.
Conclusion
A considered and inclusive approach is required to make positive strides towards a new of working that maintains embraces a new way of working, leveraging digital technology that will facilitate the change and enhance your competitive edge.
What are your thoughts on the necessary changes your organisation needs to embark upon to address this immediate challenge of our time?